PROCERA™ REF

PROCERA™ REF is a dense refractory coatings, with greater than 0.90 emissivity efficiency. This increased emissivity reduces thermal gradients, increases production and improves quality while at the same time reducing energy consumption up to 30%. After properly curing the refractory, this coating forms a chemically bonded, non-wetting, inert surface that has a very low porosity. This surface sealer prevents the diffusion of oxides, fluxing agents, and atmospheres that normally penetrate and destroy the refractory. PROCERA™ REF dense refractory coatings are non-hazardous, non-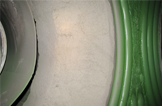 toxic, is water-soluble, and discharges no fumes when applied.

PROCERA™ REF dense refractory materials will:

save energy (up to 30% reduced energy consumption)
increase production (faster heat-ups and cool downs)
demonstrate highest quality (provides temperature uniformity, assures evenly heat treated parts)

extending refractory substrate life
prevents fluxing surface and surface reactions to 2700°F/1482°C
reduces downtime and decreases maintenance
Application:
Surface Preparation & Heat Cure:
Limitations:
REF applications include all types of dense refractory, burner blocks, furnaces, ladles, coke ovens, burners, hoods, crucibles, kilns, and troughs. In power utility boilers,REF is utilized on access doors and burner throat refractory in conjunction with MC19-GRP to
eliminate "eyebrow" formation.
The surface preparation for applying the coating may require sand blasting, completely removing all slag and combustion by-products to achieve a clean solid surface.Curing must be done during heat up of the coated component.
The maximum operating temperature of the ceramic coating is 3000°F/
1649°C.